| | |
| --- | --- |
| Delivery time AliExpress Poland | Up to 3 working days from a Polish warehouse |
| No need to clear customs | AliExpress parcels to Poland from EU countries |
| Not subject to customs tax | parcel from China up to 150 euros |
| Subject to VAT | all parcels from outside the EU |
Poland is the first EU country to love goods from China. AliExpress Poland opens in Polish with prices in zlotys, euros, or rubles. Look for products in the official catalog. Make bargain purchases. And we will tell you how to reduce customs duties. Or not pay them legally. In October 2021, Aliexpress opened its own warehouse in Lodz in Poland.
Special entrance on AliExpress with discounts
Your personal AliExpress home page. Created personally for you.
AliExpress Poland catalog in zloty and euro
Currency and language are selected in a special menu. It opens in the upper right corner of the site on your computer. In the app, the menu is in the lower right corner. You can choose a language and set up Aliexpress in your profile.
When choosing delivery to Poland, the price currency of AliExpress will automatically change to Polish zloty. But we recommend using the euro. The fact is that in Poland the customs service calculates duties based on the value in euros. This makes it easier to select goods for duty-free shipping.
The main currency of Aliexpress is the US dollar. Therefore, when making a purchase, dollars will still be debited from your bank card or e-wallet. The price can be displayed in any currency. An approximate amount will be shown. The exact cost depends on the rate at which your bank converts the zloty to the dollar.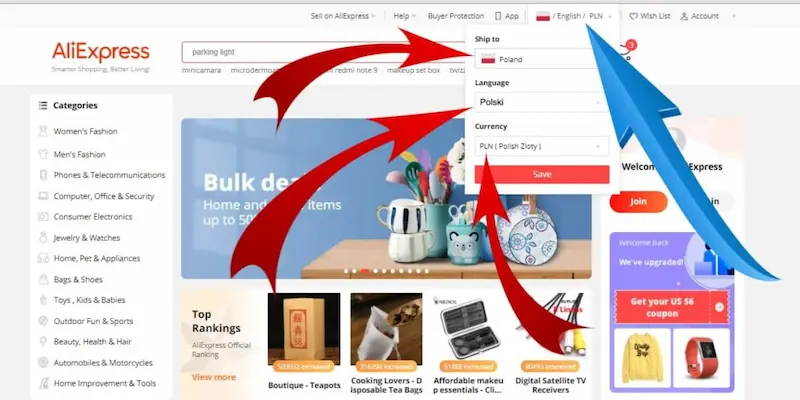 The same AliExpress catalog operates in Poland as in other countries. The only difference is the sorting of goods.
Polish, like Russian, is one of the main languages ​​of AliExpress. But the translation is done automatically, using artificial intelligence. The official language of AliExpress is English. The item must match the description made in English. Otherwise, you can demand to return your money.
Coupons for Poland on Aliexpress
AliExpress Coupon Center
Active coupons for old users. Fixed discount on all products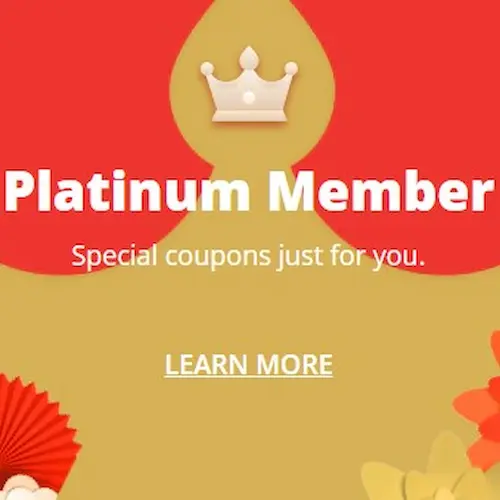 Shopping on Aliexpress in Poland
Poland has very strict customs regulations. The total amount of VAT, duties, and other payments can reach 30% of the value of the goods on AliExpress. But don't worry – you can shop and legally don't pay anything to customs.
Before shopping, you need to sign up on AliExpress. And indicate the delivery address. You need to write it in English.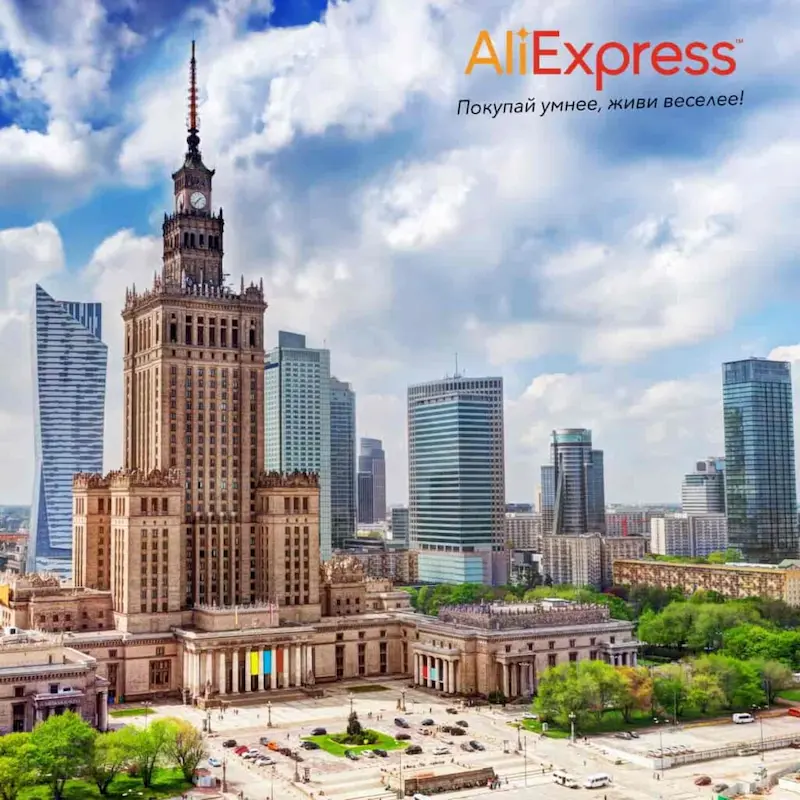 Delivery from AliExpress to Poland
All orders from Aliexpress go through the warehouse in Łódź. There the parcels are assembled and sorted. Delivery across Poland from this warehouse – 3 working days.
Popular products have already been delivered to the warehouse in Lodz. You will receive them 3 days after purchase.
Parcels from China arrive directly in Lodz or are delivered through the Aliexpress central warehouse at Liege Airport in Belgium.
Delivery time from China with AliExpress to Poland is 10-20 days.
Parcels from AliExpress to Poland are delivered by Poczta Polska.
You can pay customs duties (duties) upon receipt of the order by mail.
Parcels from AliExpress in Poland can arrive at InPost or Cainiao Network packing machines (parcel machines).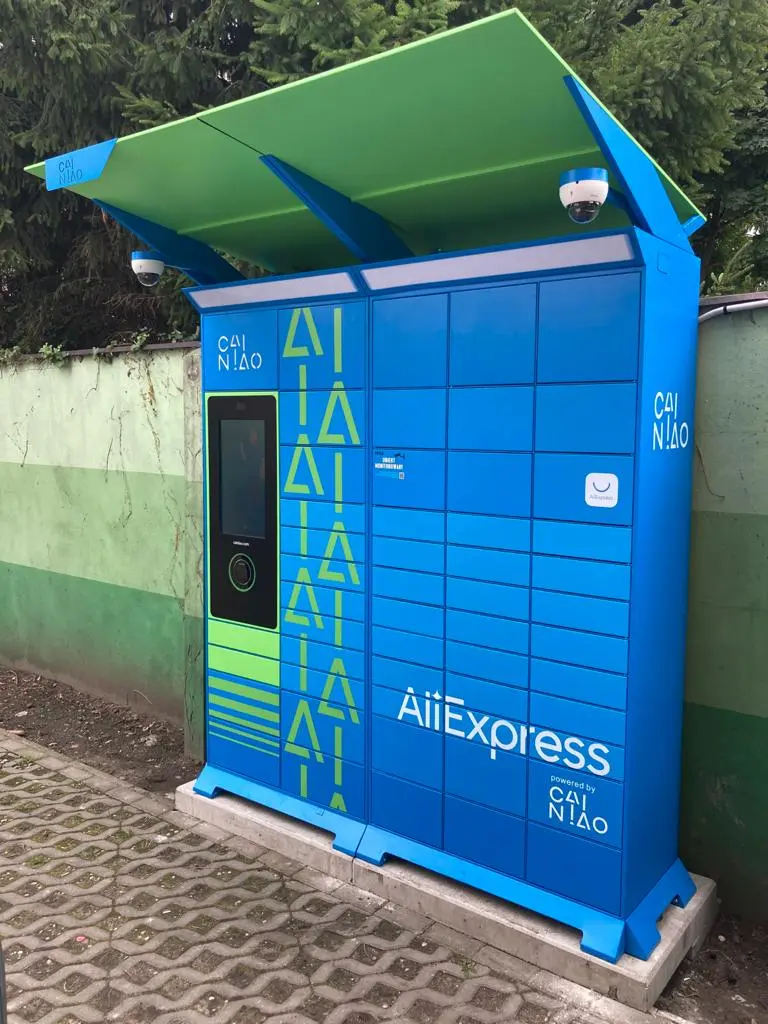 How to legally avoid paying taxes and customs duties on parcels from AliExpress in Poland
If you don't want to register a parcel and pay taxes, order on AliExpress from warehouses in the EU
Orders sent to Poland from EU member states are not subject to customs clearance. And they are not subject to duties, taxes. According to EU legislation. The sellers have already paid all taxes and fees.
Sale on AliExpress without taxes and customs
Permanent sale. Goods from local warehouses. Fast delivery, no additional taxes and fees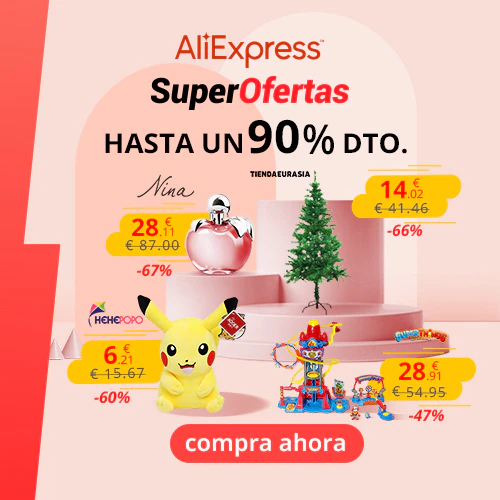 Buy goods that are already in AliExpress warehouses located in one of the countries of the European Union.
Order goods that cost less than €45 and ask the seller to indicate that this package is a gift.
Choose delivery via the post office of other EU countries. For example, via Finland Post. In this case, legally, it will be considered that you received the parcel not from China, but from the European Union.
Customs clearance of parcels in Poland (tax in Poland on Aliexpress)
Poland is a full member of the European Union. Therefore, if you receive a parcel from the EU, you do not need to clear it through customs. You will not be charged any additional fees. Aliexpress has warehouses in Europe. Therefore, when looking for a product, choose one of the EU countries in the search form. Don't forget Switzerland is not part of the EU.
When you do not need to pay VAT and other payments for parcels from AliExpress in Poland
If the value of the parcel does not exceed €150, customs duties will not be charged.
Duty and tax are also exempt from parcels with a declared value of up to €45 sent for personal, non-commercial use. For example, if the seller wrote "gift" on the package.
Rules for customs clearance of parcels in Poland
You can find out that your parcel got to customs in the tracking of AliExpress. It will say "Paczka zatrzymana przez urząd celny". Remember that you will need to pay not only mandatory payments (customs duties and VAT) but also customs and postal services.
When, while tracking a parcel, you notice that it has been stopped by customs, you must first wait for an official notification from the department about the need to pay VAT and customs duties, sent by mail.
The letter sent by customs will contain a notice and a photo of our package. The content of the notice contains basic information about our shipment, such as weight, number, and country of origin, as well as the warehouse number in the upper left corner.
This letter also lists the documents and information required for customs clearance of our parcel (for individuals):
Invoice, receipt, online purchase transaction confirmation or other proof of purchase – in this case, we just need a screenshot of the website where we made the purchase (for example, Aliexpress) and proof of payment.
Commodity specification – only if the invoice does not contain the necessary data for the correct identification of the commodity.
In the case of goods received free of charge from individuals (as a gift), the type, quantity, cost, and purpose of the goods are indicated. For more than one item, specify the type and value of each item.
Photocopy/scan of an identity card or data such as identity card series and number, PESEL number, registered address, or correspondence address.
Other documents only if required by separate rules.
Registration of a customs declaration (zgłoszenie celne)
In order to make a customs declaration, you must provide the above within 20 days of receiving the letter. documents to the relevant customs office through:
sending in paper form,
sending documents by fax to the number indicated in the letter
sending the required documents by e-mail to the specified e-mail address (documents must be in PDF or DOC format)
personal delivery / through a representative
It should be remembered that in the case of sending by e-mail (in the header of the message) and possible telephone consultations, indicate the previously indicated warehouse number. This will greatly speed up the package check time.
The letter sent in attachments must contain: a scanned completed notification, a scanned identity card, a screenshot of the auction site with information about the amount paid, and confirmation of payment. The content of the message must include the warehouse number, package number, product name, and its value (including shipping!). If we used a discount code, this is also worth mentioning.
If the documents and declarations you sent are accepted, the parcel will be delivered to you by mail (up to 2 weeks). Upon receipt, you will be required to pay the customs and tax fees contained in the document confirming the customs declaration (DPDZ), as well as the postage for submitting the parcel for customs control. As you can see, the parcel stopped by customs is nothing complicated. We hope that by following our advice, you will receive the expected package as soon as possible.
Information on customs clearance of parcels is taken from the site https://www.chinskiraport.pl/blog/paczka-zatrzymana-przez-urzad-celny/
Payment for orders with Aliexpress in Poland
There are currently 4 payment methods available :
Payment by debit or credit card,
Fast transfer ( Przelewy24 / PayU ),
Regular bank transfer,
Others (including Western Union transfer).
In terms of convenience and speed, the first two payment methods are better. The payment is fast. After completing the authorization once, you will link the payment method. With the next purchases, Aliexpress will automatically pull up the details.
It is better to pay from the account where you have US dollars. Otherwise, the funds will be converted. And the course will not always be profitable.
For example, you have a bank card with Polish zloty. When you pay with it for a purchase on Aliexpress, zlotys are converted into dollars at the exchange rate of your bank. In some cases, this operation must be confirmed by phone.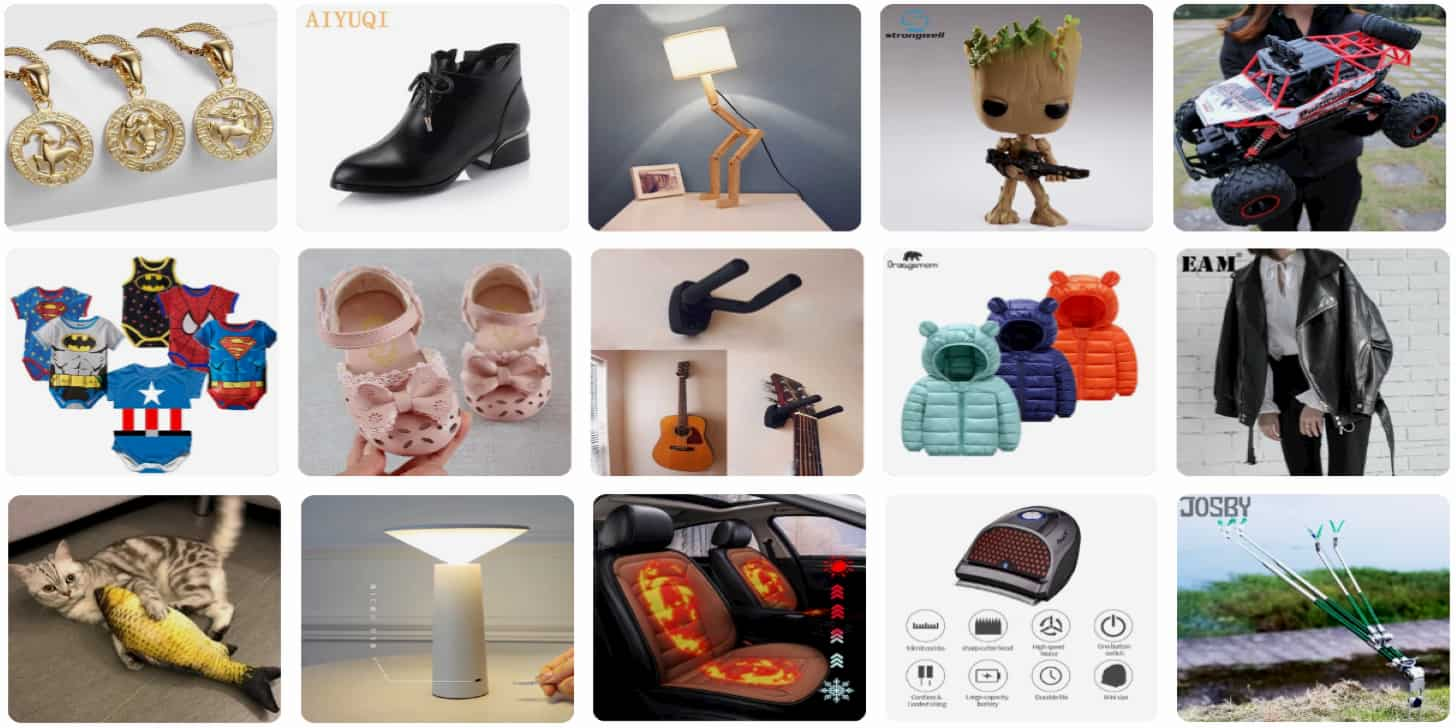 Download Aliexpress Poland in zloty
The official AliExpress app is installed on Android and IOS operating systems. Downloading to a computer is also possible, but it's more difficult to do it.
You can read about how to download and install the application in our articles:
On Android. Tablets and smartphones, including Xiaomi.
On the iPhone. Tablets and smartphones from Apple.
Contacts of AliExpress in Poland
In Poland itself, there is still no representative office of Aliexpress. Users are served by the Alibaba Group office in Eastern Europe. It is located in Germany.
Contacts Aliexpress Poland:
1st Floor, Viktualienmarkt 8
80331 Munich
Germany
Consumer protection in Poland
Three organizations are engaged in protecting the rights of buyers in Poland:
Urząd Ochrony Konkurencji i Konsumentów ( UOKiK ). General issues of consumer protection.
Urząd Komunikacji Elektronicznej ( UKE ). Electronic commerce issues.
Urząd Regulacji Energetyki (URE). Energy issues are not related to purchases on Aliexpress.
Remember that purchases on Aliexpress are, in most cases, purchases abroad. And they may not be covered by European law.
FAQ on AliExpress Poland in PLN
How to order Aliexpress Poland?
Go to the site, create an account. To do this, you need to have an email address. Enter the delivery address to which the parcel should arrive. Look for a product. Preferably, one that can be ordered from a warehouse located in one of the EU countries. Then everything is like in a regular online store. If the product does not match the photo or description, you can return the money.
How to order Aliexpress Poland?
Find the product you want and click on "buy" or "add to cart". Then you complete your purchase and make a payment. Although prices for AliExpress are quoted in PLN, payment is accepted in USD. In some cases, customs and other fees may be required. But this rarely happens, only with expensive goods imported from China.
What is the best way to pay for Aliexpress in Poland?
The fastest and easiest way is through the Przelewy24 / PayU payment systems. Payment will take place in less than a minute. Another way is a credit or debit bank card. The only requirement is your bank's permission to pay for goods in international online stores. There are other payment methods, but they take longer or cause some difficulties.
Where does the goods from Aliexpress come to Poland?
To the address that you indicated. The postman will bring it to you. In some cases, the parcel can be picked up by InPost. If customs clearance is required, you will receive a recommended letter informing you of this. You can also issue documents via e-mail. The process takes up to 2 weeks.
Where do parcels from Aliexpress Poland arrive?
Straight to your home. They are usually delivered by Poczta Polska. You can order goods not only for yourself but also for another person. For example, by making a gift in this way to a loved one or a relative. You can also choose paid shipping. For example, via courier service EMS. In this case, the parcel will be delivered to you by this courier service.