Here is the complete catalog of AliExpress in 2023, the latest version:
Here are collected goods from all over the world, and not only from China. Stores on the site are registered in China, Russia, France, Turkey, Spain. We offer you the AliExpress catalog – the full version. It can be opened in Russian, Spanish, French or viewed in English. You can choose the type of currency. Even though the Ukrainian hryvnia, even the Belarusian ruble, even the euro, or the American dollar. You can enter without registering and providing personal data.
AliExpress Official Ranking
Get a discount on the most popular products. Find out what is being bought up on AliExpress right now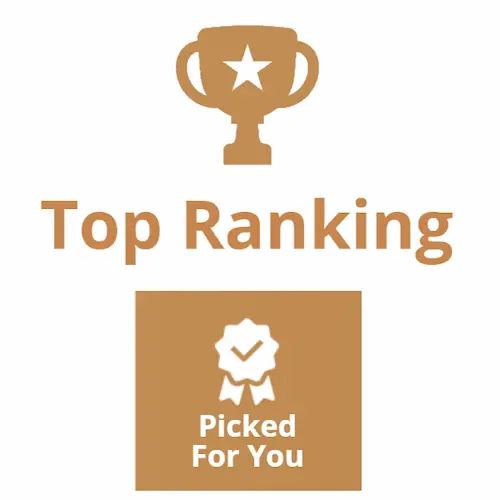 Aliexpress catalog in 2023
If the language "English" is installed on your computer and the browser is also installed, then the online store will open in this language. Of course, translation leaves much to be desired in most cases. But descriptions of goods can still be understood, learn more about color and size, and other consumer properties.
A modern product catalog on Aliexpress is simple and convenient. It is located on the left side of the site and is divided into logical categories and subcategories. Please note that the sorting is based on the popularity of products, and not alphabetically or another principle. So smartphones and electronics come first, and men's clothing and safety are at the bottom.
How to open the full version of Aliexpress catalog on a mobile or tablet
Time Needed : 0 days 0 hours 2 minutes
When you open the site on a mobile device, the mobile version is launched. And it is suggested to run or install the application. This happens on any smartphone or tablet. If you need to upgrade to the full version of Aliexpress, here's what you need to do.
Refuse to launch or install the application.

Otherwise, the site will close and you will be taken to the app store .. Just click on the white button.


Open the browser menu. Click on the "three dots" in the upper right corner of the screen.

May differ on different mobile devices. But usually, this is the upper right corner of the screen.


Select the "Desktop site" menu item. Check the box there.

Make sure a blue ✔ appears in the square. On some devices, one tap is enough.


The Aliexpress website should go to the full version. Exactly the same as on a computer.

You will be able to zoom in on the image with two fingers. Like a picture or a photograph.

Materials
Any mobile device. Tablet, smartphone, mobile phone with browser.
FAQ Questions and answers on the Aliexpress catalog
Who fills the Aliexpress catalog with goods?

This is done by registered sellers and shops. Aliexpress itself does not sell. The site only brings together those who wish to buy. And those who want to sell. And monitors compliance with the rules. So that both sellers and buyers are honest with each other.

How many products are in the Aliexpress catalog?

More than 100 million. And this number is constantly growing. Of course, some positions can be duplicated. That is, different sellers offer the same product. And their price may differ. It's even more interesting – you can always find it cheaper.

How many sellers and stores are there in the Aliexpress catalog?

More than 150,000. And new ones are registered every day. Opening a store on Aliexpress is no more difficult than, for example, creating a Facebook page. Therefore, not only big brands but also small entrepreneurs spread their goods.

What products are not in the Aliexpress catalog?

Those that violate the laws of your country. That is, if you are looking for an item that cannot be shipped to your country, Aliexpress will not display it. For example, this applies to food. The customs of Ukraine or Belarus will not allow food to pass.

In what currency is the Aliexpress catalog?

Sellers are required to quote prices in dollars. After all, their goods can go to any of the 220 countries of the world. Yes, and exchange rates can change. But you will see the price in your national currency – rubles, hryvnia, tenge, shekels.

Are Aliexpress catalogs different for different countries?

Yes, there are differences. This is due to customs legislation. If some item cannot be delivered to your country, you cannot see it. For example, food from China cannot be shipped to the EU.

How to search for a product in the Aliexpress catalog?

Enter the name of the product in the search box at the top of the site. Just type in the words that best describe the product. For example: Jeans are blue long. Or: children's educational toys.
Aliexpress catalog for France, Turkey, Spain, Italy
Alibaba Group already has local offices in these countries. Entrepreneurs from France, Turkey, Italy and Spain can open their stores on Aliexpress. Therefore, if you enter a directory in one of these countries, you see more local offers.
You can pay for goods in local currency and receive them from local suppliers. In these countries, Aliexpress works like a regular marketplace. But you can also buy goods with delivery from China.
Aliexpress catalog in Turkey, France, Spain, Italy
The directory itself is no different. In it you will find the same 100 million products from all over the world. The only difference is how it looks. First of all, you will be shown the products of local sellers. Then – goods that are already in local warehouses. And at the very end – all other goods.
Aliexpress catalog currency
The currency in the catalog is selected in the same way as in the regular version. This is done in the dialog box in the upper right corner of the screen. This menu works in both normal and mobile versions of the site. You can pay for goods on AliExpress in different ways.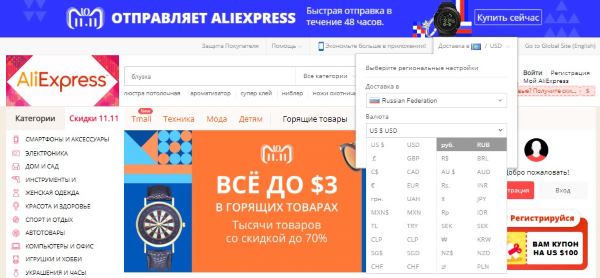 Residents of 51 countries can pay with local currency on Aliexpress
Prices will be displayed in local currency. And the amount in local currency will be debited from the bank card or payment system. But the price may differ slightly from the stated one. Because the US dollar remains the main currency of the Aliexpress catalog.
American dollar
American dollar $ USD is the main currency of the Aliexpress catalog. Sellers quote the reference price in US dollars. It is in this currency that money is debited from your bank card. Conversion to dollars is carried out at the rate of your bank or payment system.
The only exception is sellers from Russia, Turkey, France. When they sell in their home countries, the price is calculated in local currency. But their goods don't cross the border. They are not sold in other countries.
Euro
Euro is the main currency only in those EU countries where Aliexpress has already opened its representative offices. As of May 2021, these are France, Spain, Belgium, Germany, Czech Republic. If you order to one of these countries, you will see the price in EUR and pay for the item in EUR.
If you buy, for example, from China to Italy, then prices will be calculated in US dollars. Yes, Euros will be debited from your card. But the amount may differ slightly from the one indicated in the price tag. Because euros were converted to dollars. Aliexpress calculates the rate according to its own method, and your bank – according to its own. Therefore, there is a slight difference.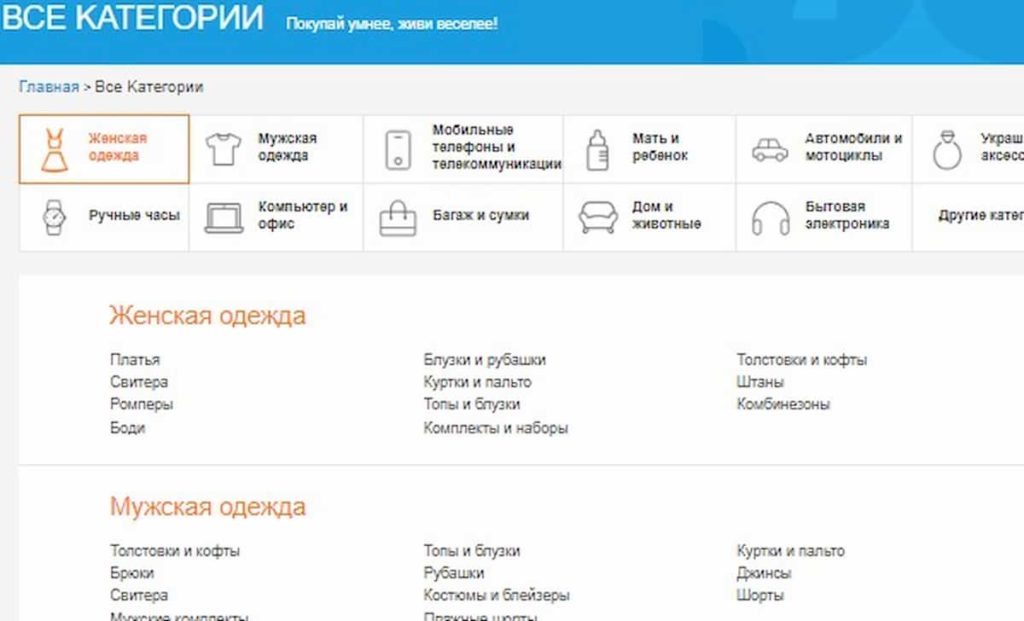 Products in the Aliexpress catalog
Perhaps there is no such product in the world that is not sold here. In the Aliexpress catalog, you will find everything that you can imagine. And even something that you did not know about. For example, did you know that there is a spacesuit for a cat? And a fridge magnet for storing spices? And there are a lot of such interesting proposals.
Women's fashion
Probably, women's fashion is the most popular section of the Aliexpress catalog in 2023. Every day, millions of women of fashion look through dresses and jewelry, jeans and skirts, blouses and blouses. And hundreds of thousands of other names, most of which men do not even know.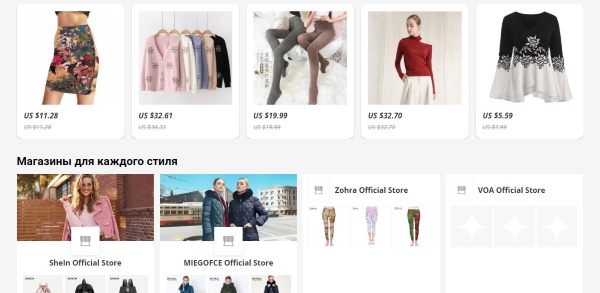 For example, recently, boho dresses on Aliexpress have been of particular interest. This is the style that came to us from China. In fact, it is a sundress or a short dress embroidered with colorful ornaments or drawings. Most are done in traditional oriental clothing. They use classic designs and patterns. But modern options are also available, with bright prints and even photographs. They are all beautiful and wide. An excellent choice for any fashionista for the summer season.
Dresses on Aliexpress with free shipping
This section on Aliexpress is in the "Women's fashion and Accessories" category. He goes one of the first, so you will quickly find him. You can enter the word "dresses" in the search bar or use the categories menu located in the upper left part of the site.
Dresses on Aliexpress are divided into groups according to the following criteria:
Material. Everything is simple here – you can choose the material from which the dress is sewn
The length of the sleeve. Here, by the way, you can choose the option without sleeves at all. For convenience, the category contains pictograms instead of inscriptions
The form. Slightly incorrect translation, rather the type was meant – weekend, everyday, wedding
Pattern. And here we mean repeating colors, so popular with Chinese seamstresses.
Length. Simple and clear
Silhouette. Also understandable
Neck cut Simplified version – selection of cut type by pictogram
Decoration. Lace, embroidery, beads and other types of jewelry
Fishing
On Aliexpress with free shipping, there is a whole section dedicated to fishing. It is in the Sports and Recreation category. You can get into this category from the menu located on the left of the site. Or simply by typing the word "fishing" in the center search bar.
Please note – the section is divided into several large subsections at once. It will be easier for you to find the right product if you choose one of them:
Fishing rods
Fishing reels
Coils
Bait
Fishing line
Fishing hooks
Fishing Tackle Boxes
Fishing floats
Fishnet
Fishing ropes
Echo sounders
Fishing chairs
Rubber boots for fishing
Fishing Caps
Fishing glasses
Fishing Gloves
Fishing bags
Fishing vests
For fishing
Fishing clothes
It is interesting that on Aliexpress in the "fishing" section you can find many offers of clothes and even house slippers. But what is there to be surprised at – a pattern with fish is embroidered on the slippers. Traditional Chinese pattern.
Bijouterie
You will be very surprised, but on Aliexpress with free shipping, there is no separate section dedicated to jewelry. The Chinese generally do not distinguish between jewelry and products made of precious metals, they have everything dumped into one heading – Jewelry.
Handbags
There is no one section for bags either, they are scattered across many other categories. For example, some of them (it is clear which one) are in the category of "women's handbags". Likewise – "men's bags". Therefore, if you want to look at all the options at Aliexpress, just type the word "bags" in the search bar. This way you can see over a million products and sort them using a dozen different filters.
Is it possible to take for free in Aliexpress catalog
Aliexpress is not a charitable organization, but a platform for sellers and buyers. However, you can take it for free on Aliexpress. For example, shops distribute goods for testing. To get positive feedback.
You can also win an item in a competition. Or buy with Aliexpress coins. This is the internal currency of the site. They are given out for completing simple tasks. Even for the fact that you open the application on your smartphone every day.
2017 version
Compared to last year's version, there have been many changes. It used to be difficult to find the right product or get into the required category. The menu was located on several levels. Sometimes children's things came across in the section "women's fashion". And the products of famous brands were not offered at all. Then no one could even think that in the catalog on Aliexpress it would be possible to find a real, and not a fake, iPhone of the latest model.

They offered mainly cheap goods, the quality of which could be questionable. Of course, real "pearls" appeared next to them – cheap, but excellent in their consumer properties, electronic devices, accessories and garments.
Today there is only one opportunity to see what Aliexpress looked like in 2017. You can go back in time only with the help of the Web Archive, the largest service that preserves old versions of sites. It shows that the design has not changed very much. Unless the number of elements was added at the top.
Online store
Aliexpress is not an online store, but a marketplace. All products here are presented by independent sellers. Aliexpress itself only monitors the order and guarantees the honesty of sellers and buyers.
But the same marketing principles work for Aliexpress as in the online store. Therefore, do not be surprised if you are frequently shown ads and constantly reminded of the items that you recently viewed.
Yes, yes, if you once, even purely by chance, look at some unnecessary trinket, say, glasses for a cat. Then you will constantly come across it in the catalog. The sophisticated and "smart" software of the online store remembers all the results of your search and then slips them to you. Sometimes – at the most unexpected moment. Therefore, if you are looking for something very personal or even intimate, it is better not to do it under your own name.

Another peculiarity of a Chinese online store is that you are constantly being shoved with cheap goods. All sorts of small accessories such as mouse pads or cable holders, or a headphone stand, or even a pen cap. Little things that are not very necessary in everyday life. But they are inexpensive. It's up to you to decide whether to buy such offers. Although, of course, any little thing can come in handy on the farm.