We will tell you how and where to download AliExpress for free on your phone, computer, tablet. We will help with installation and problem-solving. Furthermore, we will tell you what to do if AliExpress is not downloaded, installed, or does not work.
Before downloading, we recommend that you register on a personal computer. It's easier to fill in the address on AliExpress and contact information. And get a new customer coupon.
Where to download Aliexpress
We recommend that you do this through the official download page on AliExpress itself.
There is always the latest version for all devices. With updates and additional features.
Special entrance on AliExpress with discounts
Your personal Aliexpress home page. Created personally for you.
Download Aliexpress to your mobile or tablet
Depending on your device type, select one of the links below. The safest and easiest way is to download from the depository. There applications are checked and their status is confirmed.
Download aliexpress for Android (tablets and smartphones)
If you have a device running Android operating system, you can download directly from Google Play :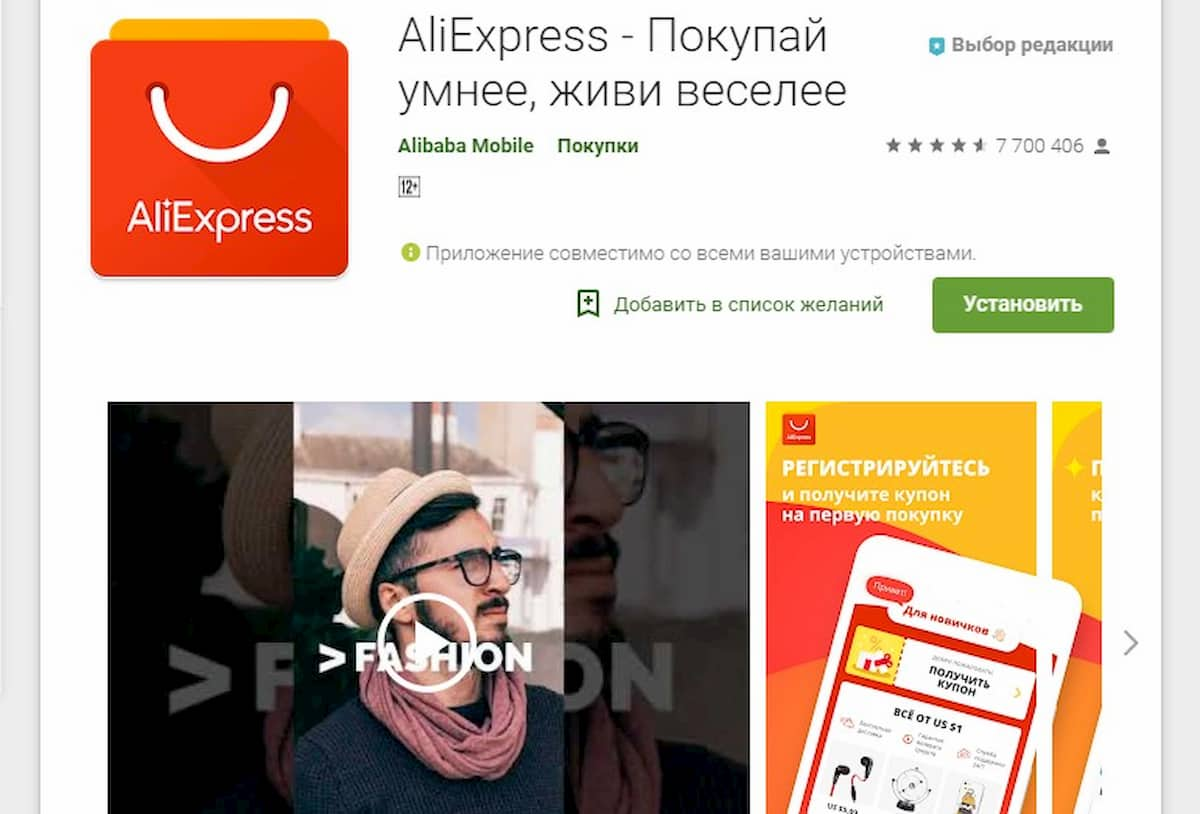 Here is a step-by-step instruction with a photo of how to download Aliexpress for Android. It describes the entire process, including installation.
Download AliExpress for iPhone or iPad
If you use an iOS gadget, you can grab the app directly from the App Store :
Step-by-step guide on how to download Aliexpress for iPhone or iPad.
Download Aliexpress
The application language depends on the settings of your device. If your smartphone is in English by default , then the application will work on it. Above are links to the current version of Google Play and App Store.
If you downloaded Aliexpress, and it opened in English, you just need to change the phone settings. Set the default language to "English" and restart your smartphone.
Second way:
Open the Aliexpress app.
Click on the icon in the lower right corner.
The settings page will open.
Scroll down until you see a flag.
Click on this item – there are the language settings of the application itself.
Choose the language "English" or another that suits you.
Download Aliexpress on PC
Alibaba Group does not yet make applications for devices running Windows or Linux.
But you can still download Aliexpress on your PC. To do this, you need to first install any Android emulator on your computer or laptop . This is a program that will create a virtual smartphone on your computer.
And already on this "smartphone" you can download and install the Aliexpress application. You can also make purchases through it, as well as from a phone.
And here is a detailed instruction on how to download Aliexpress for computer or laptop with the Windows operating system.
Download Aliexpress old version
We do not recommend that you do this, and here's why:
The latest version of the Aliexpress app runs on all Android and iOS devices. Including on old smartphones and tablets.
Older versions may contain bugs.
Older versions may not provide a secure shopping experience.
The old version of Aliexpress may have connection and login problems.
Only the latest version has all the discounts, loyalty programs, sales and special offers. Including coins.
But if you still want to download the old version of Aliexpress, then you can do it here – https://aliexpress.ru.uptodown.com/android/old Please note that this is a file depository. not the official Aliexpress.
Download Aliexpress hack
There are no hacked versions. The Aliexpress application works with payment cards and banking systems. Therefore, it is reliably protected. If you are offered to download Aliexpress hack, most likely scammers do it. Be extremely careful.
If you install such an application, then at best, you simply will not be able to make purchases. In the worst case, scammers will gain access to your device or even bank cards.
Therefore, be careful and download only from official sources.
Aliexpress is owned by the Chinese internet giant Alibaba Group. It is one of the largest companies in the world. And its specialists know how to release well-protected software products. Therefore, do not trust intruders and other dubious businessmen.
Can't download Aliexpress
The app is official. It fully complies with the requirements of Google Play and App Store services.
Therefore, if you cannot download Aliexpress, it means that there are problems with the operating system on your device.
Possible reasons are:
You have an operating system that is not supported by the Aliexpress app. For example, Windows, BlackBerry OS or other. In this case, nothing can be done. Only Android and iOS are supported.
The shell (launcher) of your device has restrictions on downloading applications from stores. It is often found on phones from Meizu and other Chinese manufacturers. Contact a service center or specialist.
Your device is infected with viruses or has malfunctioned due to software errors. Contact a service center or specialist.
You are downloading Aliexpress from an untrusted device. The download is not digitally signed and your device refuses to install it. Download Aliexpress from official sources.
Why is it worth downloading the official AliExpress app
The main reason is that when buying on a smartphone, the price of AliExpress may be lower than on the website.
Group purchases are also available in the app. You can invite friends and buy the same product. In this case, you will receive an additional discount.
Using the site through the application is simply more convenient than on a personal computer or laptop. You can find products by photography.