| | |
| --- | --- |
| Language: | English |
| Payment: | Sri Lankan rupee ₨, රු , ரூ |
| Delivery: | 20-60 days |
| Tax exempt: | Up to 10,000 Rs |
AliExpress is a Chinese marketplace that delivers goods to Sri Lanka. Product descriptions are displayed in English. You can pay for orders in Sri Lankan rupees. In 2021, Aliexpress accelerated shipping to Sri Lanka. A warehouse is expected to appear in the country in the near future. AliExpress is the best place to shop online in Sri Lanka. There are the lowest prices, millions of products and favorable delivery terms.
We advise you to immediately select the "free shipping" option. So you will see only those products that are guaranteed to be ordered in Sri Lanka.
Best price of the month for just one day
Get your discount today. Hurry up to buy goods with crazy prices.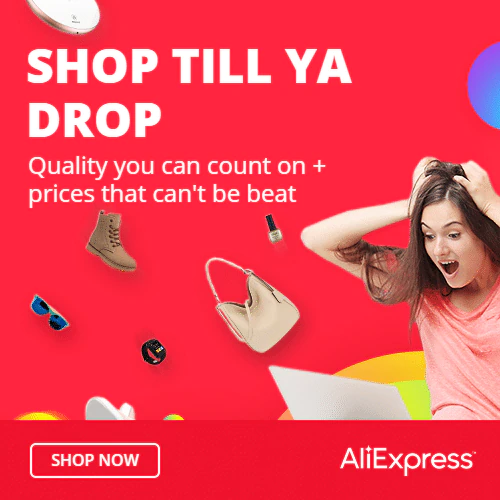 App download and login
You can download the application to a device with Android, iOS or Windows. Make sure you download the official app. It is more profitable to buy from a mobile device – you get an additional 1% discount.
You can login to AliExpress using your profile on social networks. Or in the usual way – by entering your username and password. Remember, you must not share your password with anyone.
How to buy – AliExpress Sri Lanka online shopping
To make purchases, you need to register and enter your personal information. Then Aliexpress will remember this data. And you just need to select a product and click on the "buy" button.
Sign up on AliExpress.
Enter the shipping address.
Choose a payment method convenient for you.
Go to the site and find a suitable product.
Make a purchase.
Select a shipping method.
Receive the package and confirm receipt.
The main settings of AliExpress are located in the upper right. There you can select the language, currency of payment and the country of delivery.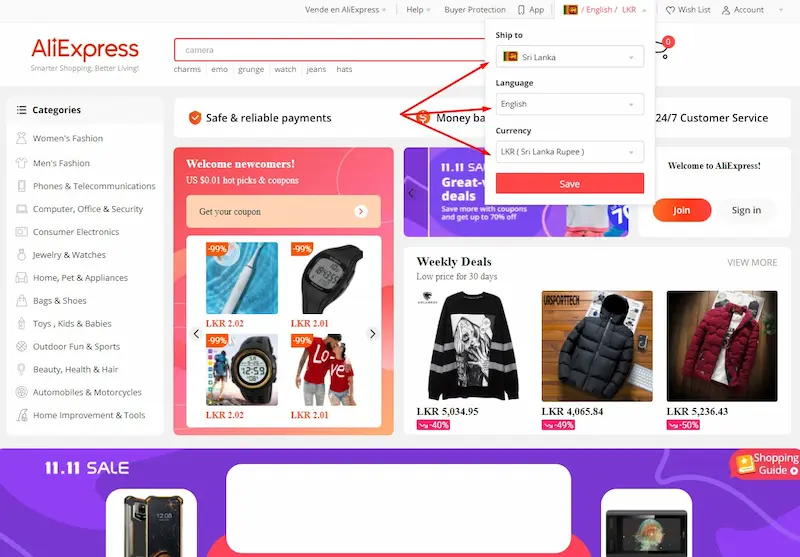 Shipping and payment
More than 40 payment methods are available on AliExpress. But we recommend using the simplest option – a credit card. Please be aware that PayPal is not available in Sri Lanka.
Unfortunately, now Aliexpress has been delivering goods to Sri Lanka for a very long time. You have to wait 20 to 40 days. Sometimes even longer.
To speed up your delivery, we advise you to always choose the AliExpress Standard Shipping method.
AliExpress Sri Lanka delivery company
Your package is in good hands. AliExpress has its own logistics company that deals with deliveries – Cainiao. And throughout the country, the delivery is handled by the Sri Lanka Post. Or other local courier services – Domex, Certis Lanka, Parcel LK.
The main thing is that you correctly indicate your mobile phone number. When the package is in place, you will receive a message on it. If suddenly, for some reason, the order does not arrive, you will be refunded.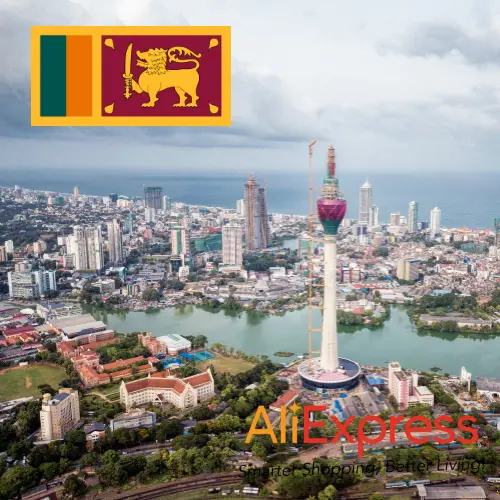 Payment for an order on AliExpress in Sri Lanka rupees
You can choose to display prices on the site in Sri Lankan rupees. The currency is selected in the same menu as the languages and the country of delivery.
But remember that this is not an exact price, but only an approximate one. After all, the main currency for settlements on AliExpress is the US dollar. When you pay in rupees, they are converted to dollars at your bank's exchange rate. Therefore, the amount may differ slightly.
You can pay in Sri Lankan rupees for all orders for AliExpress, paid shipping and other services. You do not need to exchange currency in order to make a purchase.
AliExpress cash on delivery to Sri Lanka
You can buy on AliExpress only on a prepaid basis. Payment after delivery is not possible. The only country that allows this method is Saudi Arabia.
But you don't have to worry. If you do not receive your order, you will be refunded the money, the entire payment amount. And if the quality of the goods turns out to be worse than in the photo and in the description, then you can return part of the amount. This is called AliExpress Buyer Protection.
Tax and customs clearance
If the amount of your order does not exceed 10,000 rupees, you do not need to pay taxes.
Import duties and levies are applicable on all items imported into Sri Lanka.
Please refer Tariff Guide to find out applicable rates.
But,
– Personal items or gifts worth not more than 15,000/= are exempted from Customs Import Duty.
– Personal items or gifts worth not more than 10,000/= are exempted from VAT
– Samples in relation to a business worth not more than 10,000/= are exempted from VAT and
Samples in relation to a business worth not more than 50,000/= are exempted from Customs Import Duty.
* This is only applicable for the items which are categorized as personal items.
* Above mentioned exemptions are applicable for bona fide personal items.
* However, All the other levies are applicable.
You can get more detailed information on the official website of the customs of Sri Lanka.
Dropshipping and wholesales
AliExpress is a convenient platform for profitable wholesale purchases. Almost all sellers give discounts on large quantities of goods. You can bargain with each of them. And in private messages, ask for a wholesale discount.
Chinese sellers are also willing to accept dropshipping. Moreover, you can place each individual purchase to a new address. Just write a message to the seller and tell them that you would like to do dropshipping.
Contacts
It is better to contact the official AliExpress support service via online chat. There are no AliExpress branches in Sri Lanka yet.
AliExpress Official Support 24/7
Get help from official support. Contact the operator right now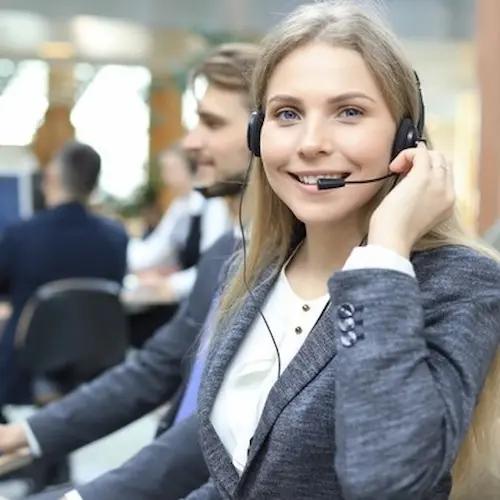 AliExpress is a division of Alibaba Group. Therefore, for all questions, you need to contact the head office of Alibaba in Asia.
Hangzhou (Binjiang District):
699 Wang Shang Road
Binjiang District
Hangzhou 310052
Zhejiang Province
China
Tel: (+86) 571-8502-2088
Fax: (+86) 571-8981-5505
AliExpress Sri Lanka agent contact number
AliExpress does not work through intermediaries. The company does not have agents or agency offices in Sri Lanka or any other country. In order to order goods on AliExpress and receive your parcel, you do not need intermediaries. Any agents or agencies will charge you money for what you could have done yourself without their help.
To receive the parcel, contact Sri Lanka Post, if the seller does not use another delivery service.
Sri Lanka Post contacts : +94 0112328301-3 (Tel), + 94 011 2440555 (Fax), Email : [email protected] / [email protected]
For customs clearance, contact the Sri Lanka Customs:
Sri Lanka Customs, No.40, Main Street, Colombo 11, Sri Lanka.
Tel: +94 11 2143434 Ext.7030,
+94 11 2221602-3,
+94 11 2221607,
+94 11 2221611,
+94 11 2221713
Fax: +94 11 2446364
E-mail: [email protected]
FAQ
Is AliExpress available in Sri Lanka?

AliExpress is fully available in Sri Lanka. You can register on the site and make purchases in Rs. You do not need intermediary services for purchases on AliExpress in Sri Lanka.

Does AliExpress ship to Sri Lanka now?

Yes, Aliexpress is now delivering orders to Sri Lanka. But not all sellers are ready to work with this country. Select "Free Shipping" to see items that are accurately delivered to Sri Lanka.

How to sell on AliExpress from Sri Lanka?

Unfortunately, now you cannot register a store on AliExpress from Sri Lanka. This can only be done by legal entities from China, France, Spain, Italy, Turkey, Brazil and Russia.

Is AliExpress delivering to Sri Lanka?

Delivers, but not all goods. Shipping costs are still high and the customs clearance procedure is complicated. Therefore, some sellers on AliExpress do not want to work with Sri Lanka.

Why AliExpress shipping is expensive to Sri Lanka?

AliExpress delivers orders by airplanes, both cargo and passenger. There are few flights from China to Sri Lanka so far. Therefore, the transportation of goods by air is expensive.

Are AliExpress and Alibaba the same?

Not really. AliExpress was created for retail purchases – from 1 to 10 units of goods in one order. And Alibaba was created for wholesale purchases – hundreds and thousands of units of goods in one order.