| | |
| --- | --- |
| For new users: | Coupons, gifts |
| Regular promotions: | Held monthly |
| Upcoming promotion: | Date and description |
| Current promotions: | from 3 to 5 |
A good opportunity to save money. AliExpress' promotions are a reduction in the price of goods of one type, one seller or one type of delivery. For example, a promotion for phones or a promotion for Xiaomi smartphones. Or discounts on goods with fast delivery. Anyone can take part, registration is optional. You can get a bigger discount than promotions only at the main sale, which takes place on 11.11 on AliExpress every year.
Upcoming promotion on Aliexpress
In order not to miss the AliExpress promotion, you need to follow the news. Or use the sales calendar. Some promotions take place monthly, others – once a quarter or even once a year.
When there are promotions on AliExpress
On any day on AliExpress, you will find from 3 to 5 valid promotions. Their announcements will be shown to you right in the slider on the main page. The average discount is 5-10%. Every month, there are at least 30 presentations of new products on AliExpress.
More serious promotions on AliExpress are held about once a month. There you can get a discount in the range of 20-30%. Sometimes they give more – up to 50%. Please note – the price is not reduced for all products. And only for those who take part in the action.
All AliExpress promotions: a complete list
The biggest promotions on AliExpress
Held 11.11 on World Shopping Day. Buyers are offered discounts of up to 70% off the regular price. But even here you need to be careful. Not all salespeople are so generous.
AliExpress' promotion for new users
Works constantly. For registration, you receive a one-time bonus in the amount of $2 to $4. The amount depends on which country you are registering from. Registration with a username and delivery address that have not yet been on AliExpress is considered new.
But don't abuse this promotion. If the administration of the marketplace notices that you already have an account and that you are registering a new one only in order to receive a bonus, it will block all your accounts.
In August 2021, Megafon sold its shares to its own parent company, USM International. And in January of the same year, RDIF, together with the investment platform Mubadala Investment Company and other Middle Eastern sovereign funds, bought out 7.85% of the shares in the joint venture from Alibaba Group.
Get a gift for registering on AliExpress
Choose a gift for yourself for coming to the site. Have your first purchase paid by Aliexpress.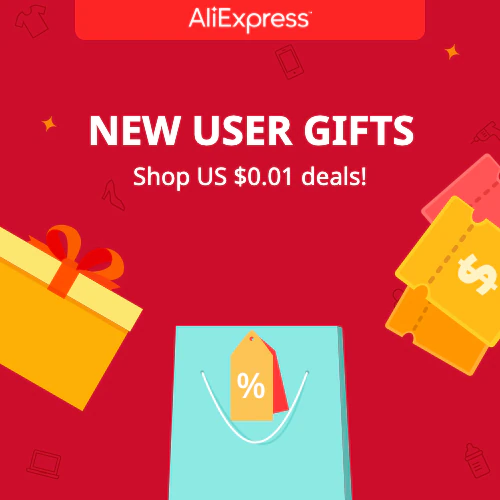 FAQ
When are Promotions on AliExpress?

Constantly. On any day, there are from 3 to 5 promotions on AliExpress. Information about them can be found on the main page, in the carousel slider. These are sales of individual brands, stores or product groups. Discounts are not big, but interesting.

When will there be promotions on AliExpress?

Several promotions take place every month. Literally every other day, brands make premieres of new products. Once a month there are promotions "Low prices", "Fast delivery", "New items".
The article used materials and photos from the official Aliexpress user guide.