| | |
| --- | --- |
| Where are the coins on Aliexpress | App only |
| Coin exchange rate | 1 coin = $0.01 |
| Change | For coupons |
| Available | In games |
AliExpress' coins are the virtual currency used in the official app. You can get coins for free. In order to receive and spend them, you first need to download the application to your phone, tablet or computer. AliExpress coins can be exchanged for coupons and pay for goods in part or in full of them.
Where are the Aliexpress coins
To find out how many coins you have, open the app and go to the "Mobile Bonuses" section. The number of your coins will be displayed in the upper right corner of the screen.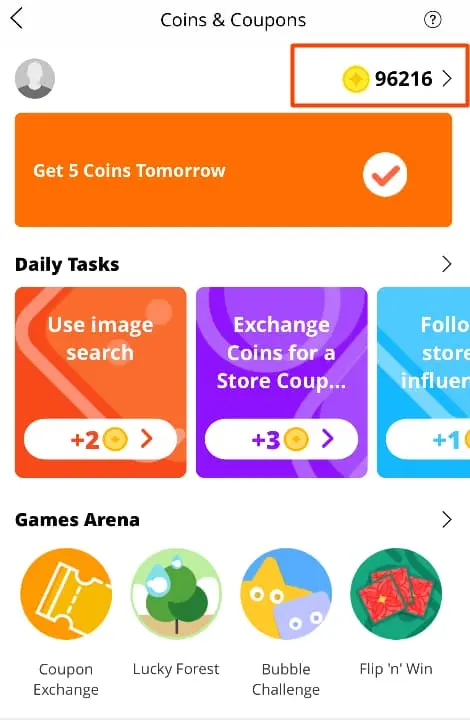 To find out the history of receiving and spending coins, click on this number. You will see how you received AliExpress coins and how you spent them.
Please note that the coins you earn will expire on December 31st of the following year. For example, you have 100 coins in your account received in 2018. Then on December 31, 2019, 100 coins will expire.
How to get AliExpress coins
There are three ways to earn Aliexpress Coins:
Log into the app daily and collect coins.
To complete tasks.
Play games.
Private sale on AliExpress for their own
Get an invitation to a private sale. Buy goods with discounts for regular customers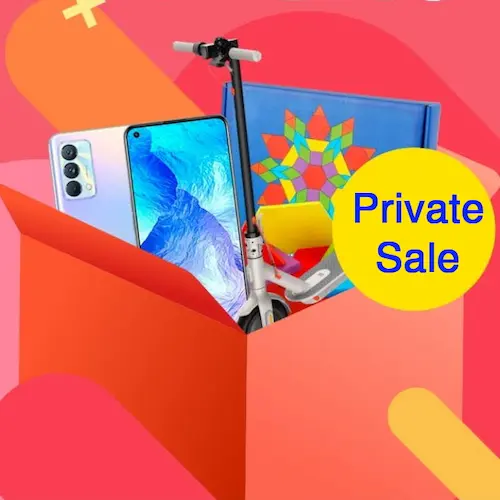 How to get AliExpress coins for free every day
Coins are given for free just for running the AliExpress app on your smartphone or tablet. But in order for them to get into your account, you need to follow these steps:
Go to the app.
Go to the "Mobile Bonuses" section.
Click on the picture of the chest with gold.
Do these steps regularly.
The longer you continuously collect coins, the more you get them.
First day – 1 coin.
Second day – 5 coins.
For the third day in a row – 8 coins.
Fourth day in a row – 10 coins.
For the fifth day in a row – 12 coins.
Sixth day in a row – 14 coins.
The seventh day in a row and all subsequent days – 15 coins.
Please note – if you miss at least one day, everything will start over.
How to get AliExpress coins by completing tasks
The same section "Mobile bonuses" contains tasks for the completion of which coins are credited to your account. Nothing complicated. Here's what and how much you can get:
Try search by photo – 2 coins are credited.
Swap coins for coupons. For each such operation, you are given 3 coins to your account.
Subscribe to a store or blogger. For this, you will receive 1 coin.
Share your new collection. For this, 1 coin is also given.
Like the post in the feed. Also get 1 coin.
Note. Tasks must be completed from this section of the application. That is, if you just like the post or search by the picture, you will not get the coin. But if you click on this task in the application, and then complete it, then you will be given a reward.
How to get coins by playing games
There are three games available in the application:
Money Tree. You have to go in every day and do something with the tree.
Shoot discounts. Aim and shoot balls from a bow.
Guess the card. You need to guess under which card coins, discounts or coupons are hidden.
Please note – in every game you need to spend coins. Buy something or place bets on them. But you almost always win more than you bet.
Where to spend and how to exchange AliExpress coins
Coins can be exchanged for goods or coupons in the app. In the "Mobile Bonuses" section, there is a list of goods that can be paid in whole or in part with coins. The exchange of coins for coupons is also carried out there.
How to exchange coins for Aliexpress coupons
You will find a list of coupons available for exchange in the AliExpress app. Go to Mobile Bonuses> Exchange Coupons> Exchange Coins for Coupons. Your coins will be deducted every time you exchange them for coupons. A limited number of coupons are available every day. Coupons are issued on a first come, first served basis. Make sure you get yours on time!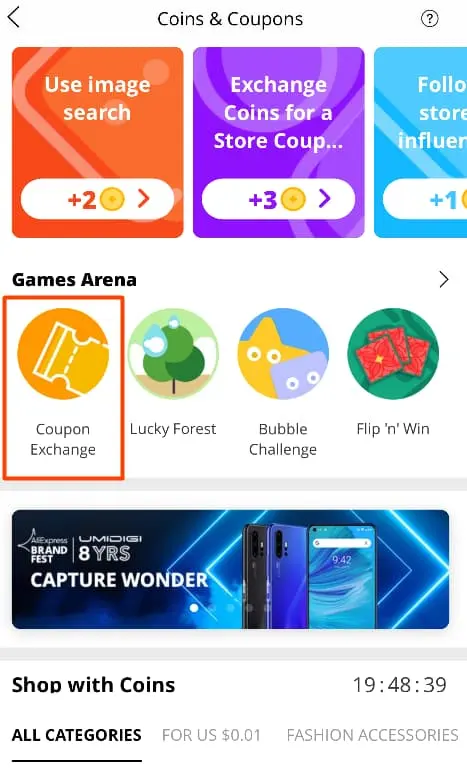 Please note – you will receive a bonus for the exchange. Every time you exchange coins for coupons, 3 coins are credited to your account.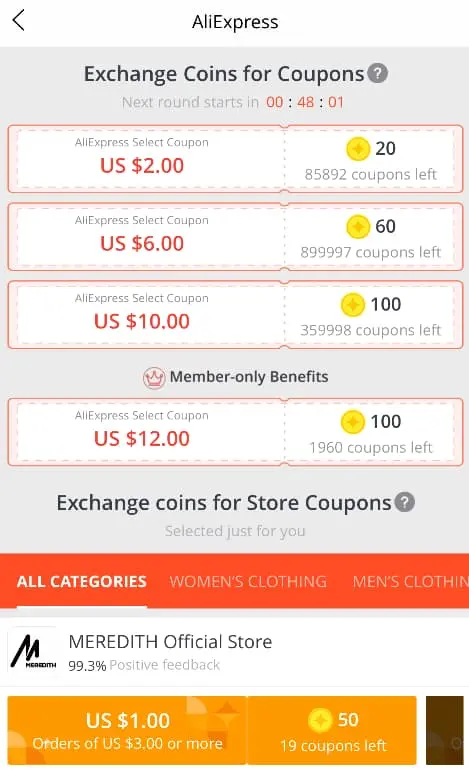 Don't forget that AliExpress coupons can be used to pay for goods in full or in part. But only if the conditions specified in the coupon itself are met.
Purchase with AliExpress coins
All goods that can be paid with coins are presented right there, in the application. In the "Mobile bonuses" section. Scroll down a bit and you'll see them. Please note that some products can be purchased in full of coins. But most of the goods are only partially.
The usual exchange rate is $0.02 per coin.
It may change during promotions or sales.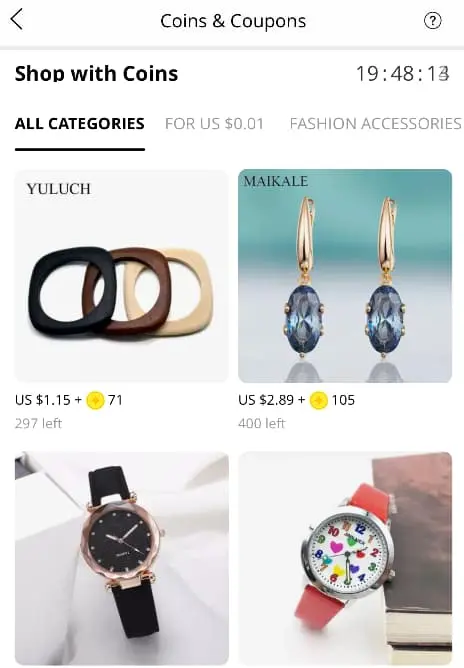 FAQ
Where can I get AliExpress coins?

Only in the official app. Coins cannot be bought, transferred, gifted or received in any other way. They are obtained, stored and spent only in the AliExpress application on a smartphone or tablet.

Where can I see coins on AliExpress?

Open the app on your mobile or other device. Go to the "Mobile bonuses" section. It is available on the main screen of the application. In this section, in the upper right corner, you will see an image of a gold coin. And next to it is a number. This is the amount of your AliExpress coins.

Where can I find coins on AliExpress?

Now the coins are no longer found. You can get them for free by simply visiting the "Mobile Bonuses" section of the application every day. You can earn by completing tasks. Or win games. Everything is in the app only. There are no other ways to find or get gold coins.

Why coins on AliExpress?

To make it more interesting to buy goods. You get pleasure when you win coins. And when you pay for your purchases with them. And sellers and site administrators benefit from the fact that you visit the application every day. This gives them more opportunities to show you ads.

How to use coins on AliExpress?

There are two ways: either exchange for coupons, or pay for goods from the list. In the first case, you will also earn 3 coins for each exchange operation. But the number of coupons that you can get during the day is limited. Items sold for coins are shown in the app.

How to spend AliExpress coins?

Buy goods for them. In the same section where you get coins, a list of products is available at the bottom. Their purchase can be fully or partially paid in coins. The course is 1 cent for 1 coin. That is, to pay 1 US dollar, you need 100 AliExpress coins.

How to get coins on AliExpress?

Complete tasks. Search by picture, share collections with friends, subscribe to store and blogger updates. Like the posts in the feed on AliExpress. Exchange coins for coupons. Yes, for each such operation you are given 3 more coins. And don't forget to visit the app every day. Already only for this you will be given from 1 to 15 coins.

How to exchange AliExpress coins for goods?

This can be done in the app. Only in the "Mobile bonuses" section is a list of goods sold for coins available. Please note – some products can only partially be paid with coins. But there are also things that you can purchase entirely with virtual currency.

How to earn coins on AliExpress?

The easiest way is to complete the task "Search by photo". Go to the "Mobile Bonuses" section in the app on your device equipped with a camera. Take the Photo Search quest and take a picture of something near you. You will be immediately given 2 coins. This can only be done once a day.

How to get AliExpress coins back?

Unfortunately, this cannot be done. 
If you have already exchanged them for coupons or goods, the coins have been debited from your account. 
Earn new ones. 
And if you haven't spent coins within a year, they will be permanently debited from your account. 
Without any compensation.

How to wind up Aliexpress coins?

It is impossible to do this now. The site administration has already eliminated an error in the program code, which made it possible to receive an unlimited number of coins. Perhaps this mistake was made on purpose to attract attention. Earn coins legally. Just run the app every day.
The article uses materials and photos from the official help center Aliexpress – https://service.aliexpress.com/page/knowledge?pageId=37&category=1000021977&language=en