| | |
| --- | --- |
| Product type: | Elimination of residues |
| Begining: | Last week of the month |
| End: | Beginning of next month |
| Discounts: | prices for everything under $ 10 |
Another promotion has started – "Low prices for AliExpress". Official name: Everything under US $10. We are offered a variety of products. But everything is cheaper than $10. Here you can find clothes, jewelry, and household goods. And even household appliances.
Elimination of residues. Get your discount
It is more profitable for them to sell for a penny than to pay rent for warehouses. See what cool things are given away on the cheap.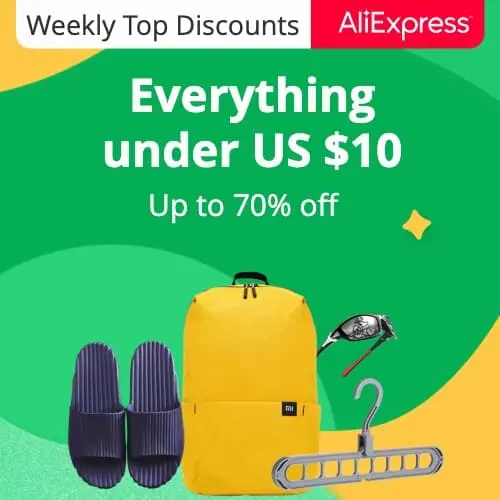 Products with the lowest prices on AliExpress
Detailed article on prices for AliExpress.
And there are thousands of such things. Of course, not everything is available. Only those goods that the sellers have left in their warehouses.
FAQ
How to find the lowest prices on AliExpress?

Open the most recent sale on the homepage. Or enter the name of the desired product in the search bar. And then choose Sort by Price. If you want to buy even cheaper, open the Low Price Sale. It takes place every month. Sellers do the liquidation of stock balances. They offer what they could not sell at three times cheaper.

When are the lowest prices on AliExpress?

During sales. The biggest ones are on 11.11 and 28.03 every year. And also every month the liquidation of the balances is carried out. This is a Low Price Sale. It can start on the last or first days of the month. For example, from March 1 to March 5, they sell what is left from February. Not all colors and sizes may be available, but prices are definitely the lowest.

Why are AliExpress prices low?

Because Chinese manufacturers know how to do it cheaply. They don't spend on advertising and promoting their brands. They pay less salary than in the USA or Europe. And they make goods in huge quantities. And AliExpress has learned to deliver their products anywhere in the world quickly and cheaply.
What's interesting about "Low prices for Aliexpress"
The season is coming. Sellers need to clear out warehouses for new goods. You need to bring summer collections of clothes, accessories, smartphones, cases, glasses. Therefore, they sell everything that is left in warehouses in the Russian Federation and other countries. Some things are given almost for free on AliExpress.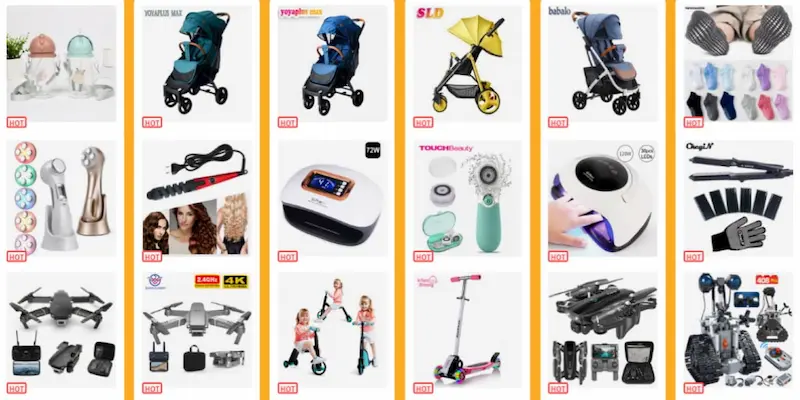 The motto of the action is "Pamper yourself. The best products at low prices ". They offer everything that went away at the May promotions.
There are almost all sections of the official AliExpress catalog. But we advise you to take a look:
Wigs and hairpieces. Hair extension products.
Curling tongs.
Wooden toys and radio-controlled robots.
Baby carriages.
Kids' things.
Pencil cases and other school supplies. Now they have the highest prices.
Slime additives.
Women's backpacks.
Bicycle carriages.
Korean cosmetics.
What else is worth seeing
The best offers will be in the following headings:
Women's clothing – discounts up to 61%. It is understandable – they are selling out last year's collections.
Security and protection of up to 56% discount. Security cameras and alarm systems.
Household appliances – discounts up to 46%. We advise you to look at brands such as BIOLOMIX, DARIS and Dreame.
Take a close look at the items on your wishlist. And what you've wanted to buy for a long time. Perhaps the price will be lowered. But be careful. Sellers often abuse their trust. Raise the price a little to give "big discounts".
Why is it profitable – buy on "Low prices on AliExpress"
Warehouse liquidation is always the most honest sale. There are already sellers, no time for jokes. We need to free up space. The selection of goods is less than in the full AliExpress catalog. The most popular thing was dismantled. But if you just want to get the lowest price, go to the sale.
Women and shopaholics don't have to hold back. But you don't need to type everything in a row, either. Buy only those things that are useful to you.
Event Details
Start Date :
2021-07-26
,10:00:00 дп
End Date :
2021-07-31
,10:00:00 дп
Website :
http://aliexpress.com
Attendance Mode :
OnlineEventAttendanceMode
Status :
EventScheduled